The orchestra were in residence in The Pit at the Barbican Centre, London in 11th-17th February 2019, playing to sold-out concerts at the end of the week.
We are enormously grateful for the Barbican's generosity in hosting us, with special thanks to Managing Director Sir Nicholas Kenyon, Sean Gregory, Executive Director, Innovation & Engagement and Toni Racklin, Head of Theatre & Dance.
This video tells the story of the week...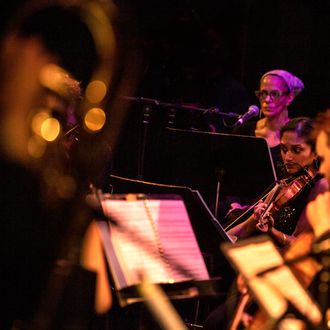 Ursula Rucker
life on the third rail 
you know...
the edge...
the cliff's hang...
the danger zone...
life on the third rail...
it's quite a life indeed...
a fine and wild balance...
of dissonance and harmony...
fright and glee...
ahhh...
life on the third rail...
it's quite a life indeed
"

Dear Peter, Thank you for the most incredible, moving, and thought-provoking week. I have so much to say and digest " - with love, Alice Zawadzki voice/violin
"

Thank you for a stunning performance this afternoon. There will be lots more to say for the future but for now BRILLIANT will do. Congratulations. " - David Jones, Serious
"

Still reeling from last night's Third Orchestra outing - divergent, congruent, utterly compelling music-making, grabbing the audience by the scruff of the neck. I won't forget it. Thank you, it was a privilege to be there" - . Sarah Gabriel singer/actor